Addis Ababa, Ethiopia's sprawling capital in the highlands bordering the Great Rift Valley, is the country's commercial and cultural hub. It's National Museum exhibits Ethiopian art, traditional crafts, and prehistoric fossils, including replicas of the famous early hominid, "Lucy." The burial place of the 20th-century emperor Haile Selassie, copper-domed Holy Trinity Cathedral, is a neo-baroque architectural landmark, Addis Mercato, Mount Entoto, National Museum of Ethiopia, Holy Trinity Cathedral, Menagesha Suba Forest Park, Ethnological Museum, St. George's Cathedral, Entoto Maryam Church.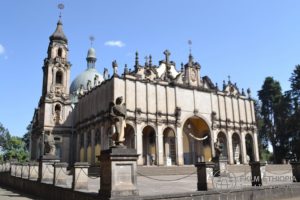 Addis Ababa, "new flower", also known as Finfinne (Oromo: Finfinne "natural spring"), is the capital and largest city of Ethiopia.  According to the 2007 census, the city has a population of 2,739,551 inhabitants.  As a chartered city, Addis Ababa also serves as the capital city of the Oromia Region.  It is where the African Union is headquartered and where its predecessor the Organisation of African Unity (OAU) was based. It also hosts the headquarters of the United Nations Economic Commission for Africa (ECA), as well as various other continental and international organizations. Addis Ababa is therefore often referred to as "the political capital of Africa" for its historical, diplomatic, and political significance for the continent.  The city lies a few miles west of the East African Rift which splits Ethiopia into two, between the Nubian Plate and the Somali Plate.  The city is surrounded by the Special Zone of Oromia and populated by people from different regions of Ethiopia. It is home to Addis Ababa University.
Prior to the establishment of present-day Addis Ababa, the location was called Finfinne in the Oromo language, which attests to the presence of hot springs. The area was inhabited by various Oromo clans. In 1886 the city was chosen by Menelik II as the capital of his kingdom of Shoa and was renamed Addis Ababa. The city's immediate predecessor as the capital of Ethiopia, Entoto, was situated on a high tableland and was found to be unsatisfactory because of its cold climate and an acute shortage of firewood. Entoto is one of a handful of sites put forward as a possible location for a medieval imperial capital known as Barara. This permanent fortified city was established during the early-to-mid 15th century, and it served as the main residence of several successive emperors up to the early 16th-century reign of Lebna Dengel. For instance, Baeda Maryam I (1468-1478) set up a royal court in a nearby Gurage country from his initial place of reign and birthplace Debre Berhan, which would have encompassed this general region.