The Best Places to Visit in Ethiopia
Here are the Best Places to Visit in Ethiopia.
Ethiopia is more than four times the size of the UK, and with roads in various stages of construction and repair, full day drives are not uncommon. This is compounded by the fact that driving should always take place in daylight; wild animals plus unlit donkey carts and locals herding livestock mean that accidents are all too likely after dusk. But these long drives really allow you to appreciate the changes in scenery; anyone venturing south will be traversing the Rift Valley, with its surprisingly lush lakes and astounding views across hills, valleys, escarpment and forest. It also provides the perfect excuse to stop in little towns for a reviving cup of coffee – follow the smell of frankincense and fresh popcorn to find a roadside stand.
One of Africa's oldest continuously inhabited sites, this was the capital of the Aksumite Kingdom dating back to 100AD. Today, it is known mainly for its stellae – enormous stone obelisks up to 33m tall and weighing up to 520 tonnes – the oldest of which date back 1,700 years. Aksum is also said to be the resting place of the Ark of the Covenant, in the unassuming Chapel of the Tablet – the holiest site in Ethiopia.
One of Ethiopia's most pleasant cities, Bahir Dar is the gateway to Lake Tana and the Blue Nile Falls, though this once magnificent 40m-high cascade has withered in recent years with the construction of a dam. Take a boat tour to Lake Tana's islands, home to ancient churches and monasteries, looking out for hippos along the way. The town itself has a thriving daily market, and charming cafes with lakeside views.
3. Bale Mountains National Park
Most hikers head to the Simien Mountains, yet Bale, with its new lodge, giant heather, jagged rock formations and endemic Ethiopian wolves, is sure to start drawing nature fans. This wild landscape plunges 1,500m from the windswept Sanetti Plateau to the twisted, fairytale scenes of the Harenna Forest. Fantastic community initiatives mean you can explore this wild landscape with local guides.
One of the most surreal and harsh places on the planet, the Danakil includes Africa's lowest point, at 155m below sea level, as well as one of its hottest; temperatures soar over 45°C in summer. Visiting Danakil is a true expedition; you can trek up an active volcano, camp on the crater rim and explore the otherworldly landscapes of Dallol, with its geysers and rainbow coloured mineral deposits.
5. Gondar
Dating back to the 17th century, Gondar is a relatively 'new' city by Ethiopian standards. The Royal Enclosure is a complex of impressive buildings including churches, palaces, castles, a ceremonial bath and a banqueting hall. Today, Gondar is a convenient stopover on the way to Lake Tana and the Simien Mountains; it is also known for its huge Timkat celebrations in January.
Islam's fourth holiest city covers just a single square kilometre in eastern Ethiopia, and this walled citadel contains over 80 mosques and 360 labyrinthine alleyways dating back up to 1,000 years. The elegant Islamic architecture, colourful robes and ancient markets seemed to have altered little since then. One of Harar's main draws is the feeding of the hyenas – a nightly ritual which deters the predators from attacking livestock.
7. Lalibela
These 11 rock-hewn churches – up to 13m high – were created in the 13th century, and are the closest thing Ethiopia has to a 'big' tourist attraction. They were freed entirely from the rock with just hammers and chisels, complete with elaborate windows, columns and roofs. Lalibela remains very much a living cultural site; 1,000 of its 10,000 residents are priests, and the churches are the focal points for ceremonies, vigils and processions.
8. Omo Valley
Some of the world's oldest human remains were found in this region, and today the Omo Valley continues to provide a glimpse into ancient ways of life, thanks to more than a dozen tribes that live along the banks of the Omo River. Famed for their body adornments – which include lip plates, scarification and face paint – the tribes are a huge attraction, though tourism has already begun to chip away at tradition.
Here are the Best Places to Visit in Ethiopia.
Here are the Best Places to Visit in Ethiopia.
9. Rift Valley Lakes
Africa's Great Rift Valley rips a great scar through the middle of Ethiopia; a giant valley where lakes have bubbled up and forests have sprung from the ground. The warmth and humidity are a welcome break from the harsh highlands, and journeys up and down the valley reveal a variety of cultures and traditions. In this landlocked nation, the lakeshores are something of a resort for holidaying Ethiopians.
10. Simien Mountains
The jagged peaks and deep gorges of this mist-shrouded national park are home to Ethiopia's most striking wildlife: gelada baboons, Walia ibex and lammergeyer vultures. Millions of years of erosion have created a jaw-dropping landscape, recognised by UNESCO. Surreal Afro-Alpine vegetation clings to the steep slopes, over 3,600m high. Single or multi-day treks with local guides offer an insight into life on the "roof of Africa".
11. Southern Rift Valley
The Konso and Dorze people may not have the striking appearance of the Omo Valley tribes, but their way of life is no less fascinating. Little influenced by tourism, life in this spectacular region of the Rift Valley revolves around market days, traditional ceremonies, farming and weaving. Unlike the Omo Valley, there are community guesthouses and workshops, providing an authentic immersion into these welcoming yet little known cultures.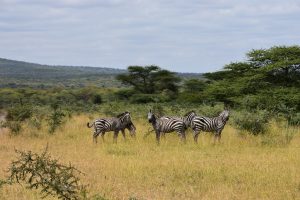 Though the endemic Swayne's hartebeest, which this sanctuary was set up to protect, have virtually vanished from the park, Yabelo is still home to a number of mammals including zebra, kudu, gazelle and dik-dik. The real attraction though are the birds; some 200 species can be found here including the ostrich, the endangered Taita falcon and the rare and striking Prince Ruspoli's turaco.