Full-Day Addis Ababa City Tour Details
Departs:
Traveler pickup is offered
Tour description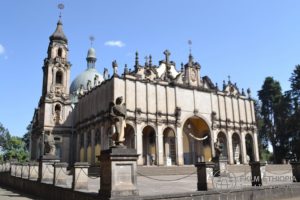 This full-day city tour is to visit Addis Ababa – Ethiopia's capital and Africa's political capital. It is the seat of the HQ of the African Union, HQ of the United Nations Economic Commission for Africa, and more than 100 embassies.  This is about 8 hours sightseeing tour of Addis Ababa to visit the National Archeological Museum of Ethiopia – where you will see the fossil remains of Lucy (3.25 million years old), Merkato – the largest open-air market in Africa, the Ethnological Museum which was the former residence of Emperor Haile Selassie I, the Holy Trinity Cathedral, Red Terror Martyrs Memorial Museum, and drive to Mt. Entoto( 3,200 meters above sea level) to have a panoramic view of Addis. Finally, drive to the city to visit the various historical monuments of Addis.
ItineraryThis is a typical itinerary for this productStop At Holy Trinity Cathedral, Addis AbabaLearn about Ethiopian Orthodox Christianity by visiting the Holy Trinity Cathedral – one of the most important religious sites in Addis Ababa. Admire the beautiful window-stained glassworks, the unique architecture, see the tombs of Emperor Haile Selassie I, and visit the small museum. Duration: 1 hour Stop At National Museum of Ethiopia, Addis Ababa the National Museum of Ethiopia, see the fossil remains of Lucy (3.18 million years old) and some of the oldest stone tools human beings ever made and used. Learn about the historical and cultural background of Ethiopia and its people. Duration: 1 hour Stop At Entoto Hill, Addis AbabaDrive through the Eucalyptus forest to Entoto Hill (3,200 meters above sea level) to enjoy the panoramic view of Addis Ababa, for a LOCAL FAMILY VISIT and to attend TYPICAL ETHIOPIAN COFFEE CEREMONYDuration: 2 hours stop At Kiddus Raguel Church, Addis AbabaVisit the oldest church in Addis Ababa (140 years old) to see the beautiful hand-painted colorful wall paintings as old as the church. Stop at the abandoned small rock church which was used 700 years ago. Duration: 1 hour Stop At Addis Mercato, Addis AbabaVisit Merkato – the biggest outdoor market in Africa. Walk at the Spice Market, Second-hand items market, handwoven basket market, and the recycling part of the market. Duration: 1 hour Stop At Meskel Square, Addis AbabaStop at Meskel Square – the main square in Addis Ababa which is named after a colorful religious ceremony of Meskel (Finding of the True Cross of Jesus Christ)Duration: 10 minutes pass By Lion of Judah, Addis AbabaDrive on the main streets of Addis Ababa to visit historical monuments such as the Lion of JudahStop At Red Terror Martyrs Memorial Museum, Addis AbabaLearn Ethiopian modern history of 1974 – 1991Duration: 1 hour
What's included
A comfortable private vehicle equipped with air conditioning and shoulder seat belts
Professional experienced English speaking tour guide
Tour escort/host
Hotel pickup
Hotel drop-off
Bottled water and local snacks in the van
Transport by private vehicle
Bottled water
Air-conditioned vehicle
Parking Fees
Traditional Ethiopian Coffee Ceremony Attendance
Entry/Admission – National Museum of Ethiopia
Entry/Admission – Addis Mercato
What's not included
Food and drinks, unless specified
Gratuities
Entry/Admission – Holy Trinity Cathedral
Entry/Admission – Kiddus Raguel Church
Highlights
Private guide for a more personalized experience
Small group ensures personal service
All taxes, fuel surcharges, and service fees included
Comprehensive tour of the city
Perfect introduction for first-time visitors